Quick menu: WW2 History | Members | Tales | All pages | Blitz '04 | Blitz '03 | Blitz '02 | MM04 | MM03 | FINN-FAQ | DISCUSSION GROUPS ]
SQUADRON IS DEACTIVATED AND IS NOW IN VIRTUAL FIGHTER COMMAND RESERVE.
Please see Rednose Reindeers / FAF / Icebreakers history tour for more information.
With time these pages will form kind of museum for Finnish online combat aviation.
These pages are the official home pages for the VLeLv ICEBREAKERS.
ICE has stopped operating after about 10 years of flying online. Lately we flew primarily World War II Online and IL-2 FB/AEP. For more information about why we've stopped please see the history tour link above. Our philosophy was to have fun, enjoy the virtual aviation, fly and fight honorably and most of all to put emphasis on flying. And we think we did well on that regard.
The VLeLv Icebreakers is also active in the Finnish aviation history front. Icebreakers studies actively the World War II aviation and you will find the results in Virtuaalilentäjät / Virtual Pilots Finland association's Aviation History site. There you can find WW2 pilot's interviews, historical articles, historical documents such as Russian aircraft identication guide or Hasse Wind's tactical lessons for war time pilots. This and more is available at the World War 2 history section.
ICEBREAKERS the squad - history and present in short:
ICEBREAKERS is a squadron in the world of online multiplayer flight simulators. We fly these days in World War II Online. Previously we have flown on the skies of WarBirds and IL-2 Sturmovik online campaign. We are not exactly sure when the ICEBREAKERS was founded but supposingly it was during the spring of 1996. It's quite possible that we were the first Finnish squadron in Warbirds, as we were in the Air Warrior (yet another online flight simulator in the net). Back those days the ICEBREAKERS were known as the Finnish Air Force. Going further back, some of us flew in a Finnish squadron Rednose Reindeers, 1994.
We are a most relaxed squad with no rigid command structure. If a member comes up with a suitably sick idea and is willing to take charge, so be it. You will find you from WW2OL skies late Sunday nights Finnish time (2100 Finland, GMT +2). So if you see 10 buffs flying from an airfield to another deep in barneyland, you can stop wondering what the hell is going on. It's just the ICEBREAKERS doing a bit of racing.
Read the (fully detailed) VLeLv ICEBREAKERS history by CO Lark
---
Squad members - home pages:

In alphabetical order: banz, cosmo, grendl, kossu-, -ok---, stubit
Fighter pilot physical requirements: (1) Knuckles must not touch ground when walking in upright position. (2) Hat size -6 1/2 or smaller. (3) I.Q. not greater than 10 X Hat Size. (4) Must be able to eat food and not drool out of BOTH sides of mouth, one side okay. (5) Must be able to carry on conversation with BOTH hands simultaneously. (6) Ability to survive on typical Fighter Pilot's breakfast; (a) Drink Coke. (b) Smoke cigarette. (c) Suck 100% Oxygen for :30 minutes. (d) Throw up. (7) Start engine with assistance of Crew Chief and assistant Crew Chief.
Squad members - biographs:
Active squadron in alphabetical order:
Cosmo Eni Grendel Teme Stubit Zendog
Reserve squadron:
Jarmo OK Korva Modo
(number of even more passive members hidden)
See also the "Squad Mate of the Month" pictures: 1997, January 1998, July 1999, January 2000 and October 2001.
---
Legend of the Flak Panzer Oil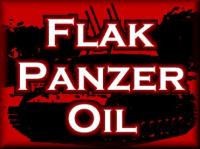 Flak Panzer Oil, FPO in short, is a legendary drink that the Finnish virtual pilots have distributed in the domestic and foreign virtual pilots' conventions. FPO is black as moonless night, strong as acid and has claimed numerous kills over unwary pilots in various conventions around US and Europe. It's ingredients are secret and only a few people are trusted with its recipe. Zombie tells history of FPO in short:
First time the Black Drink was seen in BopCon in early summer 1995. That was a small scale Air Warrior meeting in Bebops and Shebops house.
The first real patch of FPO was made by Tneck and Hilo (I learned how to make FPO from those two) during AW Con 1995. In that con the participants named the drink first to Flak Panzer Motor Oil, later the name was shorted to Flak Panzer Oil. It was definatley nastier than the one I put out in Bopcon. And I have been using Tneck's secret recipie in the following years while I've been attending WB Cons. Thank you Cuda (Palm Springs) and Kossu (DC) for covering the one WB Con I missed. But as credit goes it is definitely Tnecks 'mutation' of popular drink from Finland.
---
Finnish Airforce and the swastika - Short lesson:

For those not "in the know" do not start shooting off your mouth about our squadron insignia before you know better. That is not the nazi swastika you see there, but a Von Rosen cross which was the insignia of the Finnish Air Force (FAF) from 1918 to 1945 - estabilished way before a certain Austrian corporal made a similar symbol infamous with his national socialistic ideology. For that very reason the FAF was forced to change it's insignia to the current blue and white roundel.

The common foreigner would have not believed it has nothing to do with the nazis anyway. But as you are now here, we can safely assume that you are either a current or potential WarBirds pilot. Which means you probably are educated enough in the history of aerial combat to indeed know better. In case you are not, here is a quick crash course on that certain aspect of FAF history:

It is called a Von Rosen cross because the first two airplanes, Thulin Parasols - licence-built copies of a Morane Saulnier design - that formed the FAF were donated by a Swedish count Erik Von Rosen shortly after Finland's independence from the chaos of Russian revolution. The cross was the traditional symbol of good luck for the Von Rosen family. They probably had picked it up from Indian Aryan mythology where the swastika is a symbol for the Sun and, incidentally, good luck.

We display the cross proudly, aware of its true and lethal heritage, and furious at a crazy dictator who stole and dishonoured it. Our Hornets would sure look more handsome with the Von Rosen crosses on their shiny plastic wings. Oh well, those were the days of iron planes and er... depleted uranium men.
---
---
These pages expect you to have a minimum resolution of 800x600 pixels and 256 colours. If you are unfortunate enough not to have such hardware we strongly urge you to contact your hardware dealer as soon as possible.